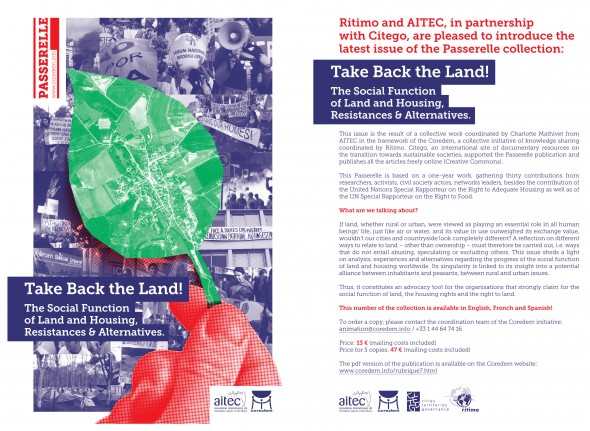 This publication is based on a one-year work, gathering thirty contributions from researchers, activists, civil society actors, networks leaders, besides the contribution of the United Nations Special Rapporteur on the Right to Adequate Housing as well as of the UN Special Rapporteur on the Right to Food.
If land, whether rural or urban, were viewed as playing an essential role in all human beings' life, just like air or water, and its value in use outweighed its exchange value, wouldn't our cities and countryside look completely different ? This issue sheds a light on analysis, experiences and alternatives regarding the progress of the social function of land and housing worldwide. Its singularity is linked to its insight into a potential alliance between inhabitants and peasants, between rural and urban issues.
Thus, it constitutes an advocacy tool for the organisations that strongly claim for the social function of land, the housing rights and the right to land.
This issue is the result of a collective work coordinated by Charlotte Mathivet from AITEC-HIC in the framework of the Coredem, a collective initiative of knowledge sharing coordinated by Ritimo. www.citego.info supported the publication and publishes all the articles freely online (Creative Commons). To read it, click here.
Speakers :
Raquel Rolnik – UN Rapporteur on the Right to Adequate Housing (video)
Silvia Emmanuelli – HIC Latin America, Mexico
Charlotte Mathivet – HIC Europe, Paris (video)
Leticia Osorio – Ford Foundation, Brazil (tbc)
Nelson Saule Junior – Instituto Polis, Sao Paolo
Joseph Schechla – HIC-HLRN, Cairo
Pascale Thys – Habitat et Participation, Bruxelles
Julien Woessner – CL Mayer Foundation, Lausanne
Lorena Zarate – HIC President, Mexico
The event will be held at the Urban Library, April 8th from 4pm to 5pm.