On October 25, the Special Rapporteur Raquel Rolnik presented her annual thematic report to the UN General Assembly, in New York. The presentation was streamed live through UN WebTV. Note as well that the deadline to send applications for the selections of new independent experts of the UN Human Rights Council was postponed to November 14. Also, the report containing the communications sent to countries by special rapporteurs, as well as the answers received, between March 1st and July 31, 2013, is already available on our site. Moreover, the Rapporteur will continue to welcome contributions to the Security of Tenure report, which contains recommendations on the subject and will be presented to the Human Rights Council on March 2014.
* New Rapporteurs
November 14 is the new deadline to send applications for the selection of new independent experts of the Human Rights Council. To find out more information, click here.
* Thematic Report
The thematic report on renting policies and collective and cooperative arrangements was presented to the UN General Assembly in New York on October 25th. Click here to watch the presentation video.
* Communications Report
Communications concerning 2013 first semester are already available on our website. In that period, Special Rapporteur Raquel Rolnik sent communications to the governments of Hungary, Bangladesh, and Portugal, and received answers from Hungary, Portugal, Panama and Nigeria. Read the complete report.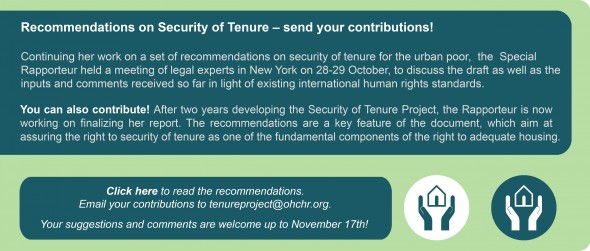 This newsletter is a project of the Special Rapporteur on the Right to Adequate Housing and it does not contain official information. Rapporteur (from May 2008): Raquel Rolnik
To receive our newsletter, access our website and subscribe.
If you prefer, contact us by email: contact@righttohousing.org
Twitter: @adequatehousing / Facebook: www.facebook.com/righttohousing